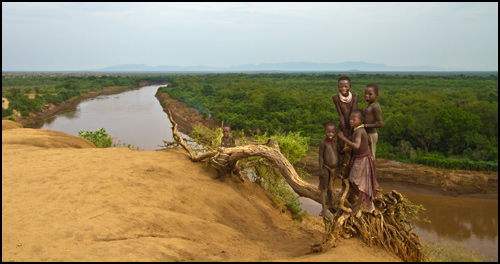 A rough morning's drive took us into the Tama Wildlife Reserve to visit a village of the Karo tribe. The village definitely is memorable for its location.  Perched beside a high cliff that looked down over a bend in the Omo River, the view was truly spectacular.  Under a large tree by the cliff were some hand-carved chairs on which some elders were reclining.  It was the first and only village in which I saw such chairs.  If you have such a view by your front door, I guess you need something to sit on and enjoy it.
Usually, in the Omo Valley, men carry their chairs with them.  They are little low stools that can be carried on their shoulders when walking, and then propped on the ground whenever in need of a rest.  Many also double as a headrest if a more serious nap is needed.  Often they were beautifully decorated and burnished due to years of use.  I noticed a number of cheap knock-offs in Dimeka market today.  I guess they make good souvenirs too.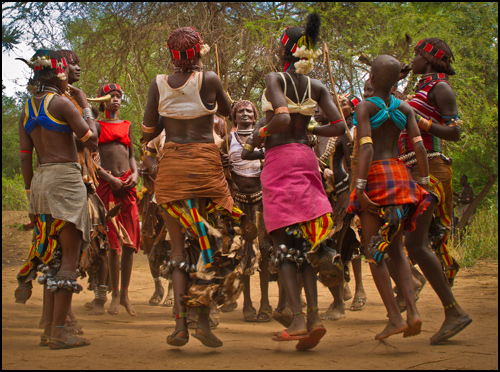 Back as base-camp it was time to party- Hamer style.  We splashed across the river following the sounds of horns to what was essentially a precursor to the main event, but no less impressive.  Gathered was a large group of women, the relatives of the young man who was to jump the bull.  They were dressed up with bells on their legs, ochre in their hair, and tops tied up to reveal their backs.  They repeatedly danced into a hypnotising circle which got smaller and tighter before breaking apart to rest and drink some of their home brew.  They appeared almost as if in a trance.  As members of the maza (men who had recently come-of-age) visited, the women would goad the maza into whipping their backs (hence the tied up tops).  It was quite horrifying to watch and must have been painful.  Many of the older women had scarring from previous ceremonies.  These scars are said to represent devotion to the relatives, and if a women ever needs help from the man she was scared for, it has to be given.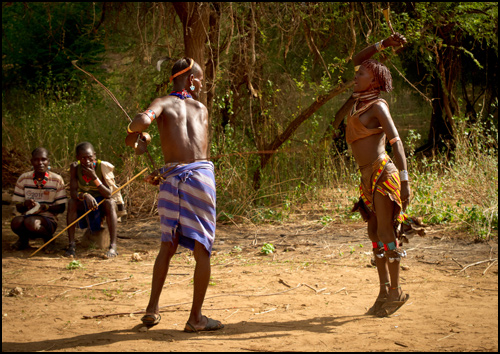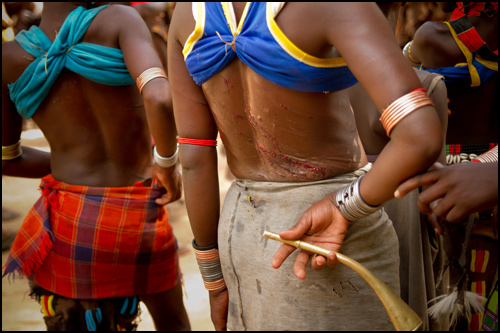 A few hours later, it was time for the main-event, the bull jumping.  Everyone moved up the road to an area where a group of bulls had been herded.  The bulls were lined up, with men holding their tails and mouths.  The crowd hushed as the boy, standing naked, prepared for his first jump, the first of four.  Soon he would be a man in the eyes of his tribe.  On the first run, he slipped, lucky to escape a trampling.  Unluckily, his friends will certainly tease him about it in the future.  The last three jumps went off without a hitch amongst cheers of joy.  The crowd dispersed with many heading back to the village where the celebrating would go on into the night.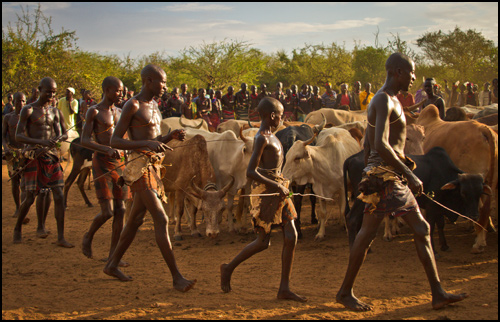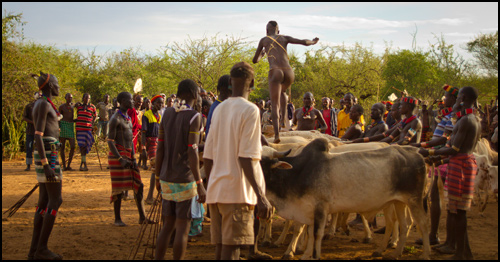 Usually Hamer bull-jumping ceremonies are held around April, but due to a good harvest and a recent aid delivery of grain, our neighbours had decided on October celebrations.
As I lay in my tent, listening to the distant sound of blowing horns, I reflected on how fortunate I was to experience such a ceremony.