Heading further south, we journeyed to Konso, before making a right and heading out to Jinka, our base for the next few nights.
As we got closer to Konso, the landscape began to chance, becoming much drier.  The low acacia trees that one so often associates with African landscapes could be seen with increasing frequency.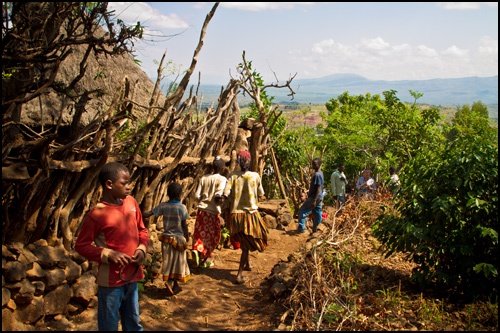 After stopping off for a drink in the ugly modern centre of Konso, we travelled a short way out of town to visit a small Konso village.  Perched high on a hill, the heavily fortified village had sweeping views over the valley below.  After entering through the main gate, we found ourselves being led through labyrinthine rock walled paths that led steadily up the hill.  At occasional intervals the walls opened to reveal gardens of flowers and grains, or stilted huts.  As we wondered the meandering paths, we collected quite a following of children.  As her curiosity and confidence grew, one girl asked if she could touch my hair.  On touching it she gave a squeal.  Perhaps it was her first encounter with straight hair, or perhaps my hair was just really dirty.
At our lunch stop in Weyto, the temperature was really soaring.  It was the first time that I had felt anything other than pleasantly cool on the trip so far.  For lunch I tried out some Ethiopian specialties – shiro and injera.  Shiro is a thick soup made from ground chickpeas and berbere, a mixture of fiery spices.  Injera is like a large sour dour pancake.  It looks like a cleaning flannel, and was so named by a member of our group, but the taste is light and a little bitter – perfect to cut through the rich spiciness of the shiro.  Meal servings were large throughout Ethiopia and rarely could I finish.  Luckily today, I met a friendly goat who helped polish off my leftovers.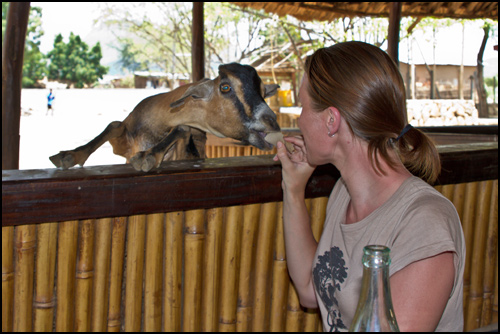 During the afternoon drive to Jinka, we saw a lot more traditionally dressed tribal people.  We stopped to photograph a man from the Banna tribe.  He was decorated with red and turquoise beads and had made ingenious use of safety pins to decorate his hair.
As we were stopping for two nights in Jinka, I took the opportunity to get some washing done.  When asking the staff, "How much?" I got the reply, "No much!"  Free washing –great! (though of course I left a tip for him afterwards.)  The boy then asked if it was, "Stress washing?"  I held back a laugh as I told him there was no rush.