There was an air of excitement in the group this morning.  We were to visit some of the Mursi tribe who live within the Mago National Park.  The tribe who are famed for their lip stretching plates are a favourite of many visitors to the area.  Our group was also a little nervous.  There had been reports that members could become somewhat aggressive when vying for the attention of photograph-taking tourists.  Paying fees to take photographs is new to me, but unfortunately has become unavoidable in most parts of the Omo Valley.  If I wanted photographs, and I most certainly did, I would have to pay.  For the majority of tribes the guide advised that 1 birr for children and 2 or 3 birr for adults was an appropriate payment.  The Mursi, being well-aware of their popularity, charged double.
The constant bartering over price, and grabbing at did dampen what could have been an extremely interesting visit, but occasional ducking into huts to sort money and take a breather helped.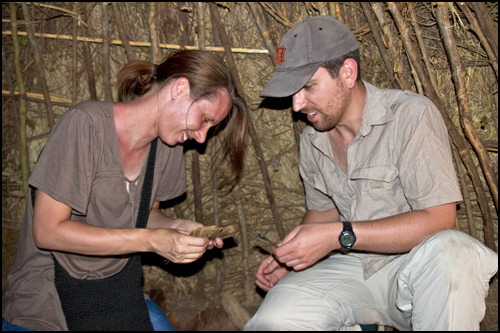 I don't mean for the whole experience to sound a negative one.  It wasn't.  There were moments of laughter shared.  After having about 5 women look down my t-shirt to inspect my bra, what could I do but laugh.  Learning of the significance of the lip plates was fascinating.  The larger the plate, the more a woman's potential husband must pay to her parents.  A large diameter could mean a payment of up to 15 cows.  Due to the lip plates being not at all comfortable the women usually wear them for short periods of time.
Overall, I was left with the impression of a fiercely proud group of people, trying their best to find their place in a quickly changing world.  As the tribe is aware of their traditional lifestyle and culture as a drawcard, there is hope that they may resist the ever encroaching modernisations that can be seen in other tribal groups.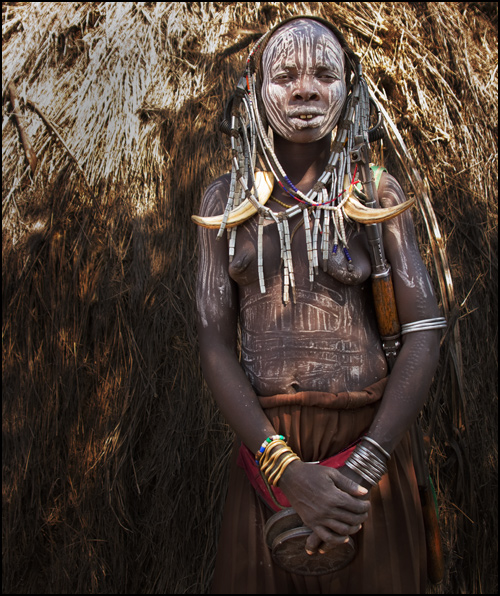 Back in Jinka, a visit to the Omo Valley Museum was insightful.  The exhibition showed a number of crafts and artefacts from the various Omo tribes.  Also, the museum, in conjunction with visiting cultural anthropologists had organised a series of discussions with women from the local tribes.  The women discussed tribal roles, marriage, customs, work practises and even circumcision.  The displays resulting from the discussions made for interesting reading.  I hope they also proved empowering for the women involved.
After dinner, I finally had the opportunity to try some of Ethiopia's famed coffee.  The ceremony involved in grinding, brewing, and pouring the coffee was an event in itself.  Eucalyptus gum incense smoke wafted in the air reminding me of home, and as the coffee was brewed it combined to form a heavenly smell.  The strong coffee had been blended with cardamom that left a refreshing aftertaste and a satisfying end to the ceremony.