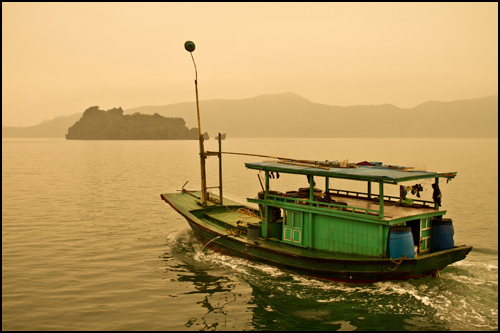 Bai Tu Long Bay is to the north of Halong Bay.  It isn't as well known as its southerly cousin, though shares similar rock formations that on our visit were grey and gloomy to match the weather.
After motoring through the bay for a few hours, the boats engines dulled to a quiet hum as we passed between two of the islands rising in irregular formations from the water.  The shallow water was a beautiful deep green and a choir of birdsong could be heard from the trees, certainly a change from the cacophony of horns in Hanoi.
On arrival at Cai Rong Island we jumped on mountain bikes and rode the 15kms to Mr Sau's house, our stop for the night.  The ride was lovely, taking us along roads draped in the perfume of jasmine that grew wild alongside.  Children called out shy hellos as we passed and village dogs raised their heads from dozing to make sure nothing was amiss.
At dinner we all mucked in to chop up veggies and roll our own spring rolls under the close guidance of Mrs Sau.  The introduction of "happy water" (home brew rice wine) helped us wash it all down and got the conversation flowing.  It probably would have flowed late into the night, but with the generator konking out early, there was nothing to do but sleep in the pitch black that was left.