On my way over to the east coast for my beach side stay I made a stop off at one of Zanzibar's numerous spice farms.  The tour was an assault on the senses with opportunities to smell, touch and taste a multitude of familiar spices in their natural setting.
I found out that citronella and lemongrass is the same thing – learn something new every day.  Explains why the mozzies haven't been bothering me.  A number of the spices have medical uses long forgotten in the western world.  Turmeric powder mixed with honey can be used to stop bleeding.  Cinnamon root, which smells similar to menthol, is used for colds.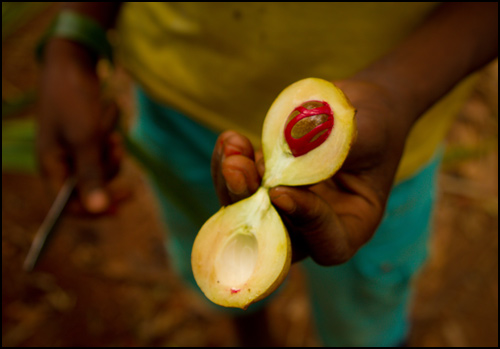 After talking about Australia's kangaroos and climate for a while with a guide at the spice farm, he asked "Vienna is the capital of Australia right?"  Argh!
Now that I've arrived at Breezes Resort the pampering continues.  I have a lovely upstairs suite with a large balcony.  The walk in robe is perhaps a little excessive though, considering I just have my dusty backpack with me.  A relaxing massage completed the package.