When photographing, I'm always drawn to people who have interesting faces. Often these faces belong to older people. You can get a glimpse of the lives they've lived through their eyes, through the lines in their skin.  There is a hint of the stories that lie behind them.  On my most recent trip to Japan I was lucky to visit a few rural villages not far from Kyoto and Lake Biwa.  As my Japanese has improved I've been able to chat more and more to the people I photograph and actually hear some of their experiences, rather than just guess at them.  Here are two of the lovely people that welcomed me to their towns and into their homes.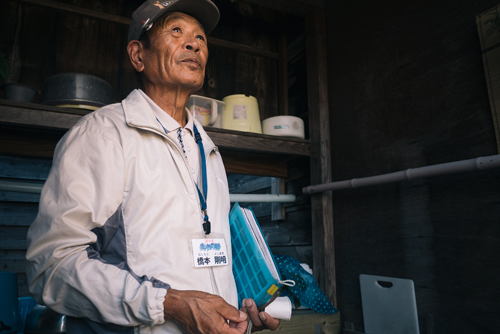 In Search of a Peaceful Life
Yoshiaki Hashimoto – 75 yrs old
Born in Tokyo in 1940, and into World War II, by Hashimoto-san's own admission, was not the best time to come into the world.  As Tokyo was becoming more and more dangerous to live in due to war time bombings, 5 year old Toshiaki and his family escaped to the quieter and safer village of Harie.
There, Hashimoto-san described a playful childhood.  The village has an extensive network of shallow spring-fed canals which provide fresh water for everyone that lives there.  During his childhood, these were used as a playground for all the local kids, and a means of transport.  To get to school, Hasimoto-san had to row himself along the canals.
Now, Hashimoto-san works as a volunteer guide, proudly showing visitors around the village he has called home for 70 years.  He also works on a number of preservation projects – being one of only a few that still knows how to thatch.
He enjoys his life in the village and explains that it is a closeknit community, though there is always gossip, usually about who has the prettiest flowers and how they might have got them to grow so well.  "You can see if that is the worst we have to gossip about, then I have found myself a perfectly peaceful life".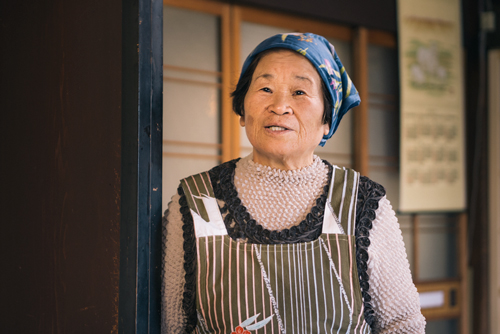 Kimiko and the Bear
Kimiko Sawai – 80 yrs old
An innocent question, "Why don't you have any chickens here?" led to one of the most vivid stories I've been told in a while.
Sawai-san, a natural story teller, has lived her whole life in Hata village.  Her house sits atop a hill, with rice paddies spilling down to the valley below.  A lush vegetable garden provides Kimiko and her husband with most of their food needs, though they still need to go to town occasionally to get eggs and other bits and pieces.  This is what led to the above question.
The reply, "NO! NO CHICKENS!"  Remembering back to her youth, newly married and recently moved into the house she still lives in, Sawai-san began to descibe one of the scariest days of her life.
Winters can be harsh in the village, and after a particularly tough one, a hungry bear emerged from the surrounding forest.  Starting at the bottom of the hill, the bear sniffed out some much needed food – the villager's chickens.  The bear slowly made its way up the hill, giving Kimiko time to hide her chickens in the storage room at the back of her house.  The door, however, was no barrier to the bear who smashed it down with one swipe of it's clawed paw.
No more chickens – then, or since.  "I love welcoming visitors to my house, but no more bears!"