Visit Japan as it displays it's beautiful spring palette. Haru = Spring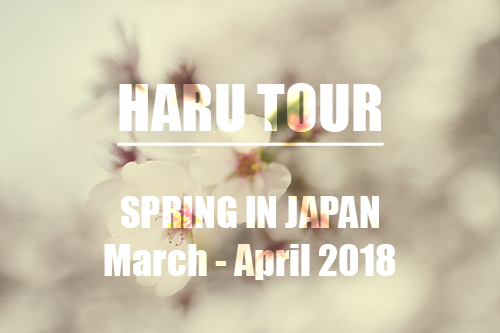 Be greeted by weather that is starting to warm up, and local's welcomes that are even warmer.
April brings the best of both worlds with snow covered mountains and hanami, or cherry blossom viewing parties.  It's hard not to get swept up the atmosphere and celebrations of spring.
30th March to
10th April
2018
(12 days)
Tokyo
Kawaguchiko
Kyoto
Kyoto countryside
Nozawa Onsen
$4895 AUD per person
(based on twin share)
single supplement available
Arrival day. We'll kick off our tour this afternoon. At this time of year Tokyo is full of cherry blossoms and the joviality of people enjoying them.  We'll find a spot to join in the fun.
An early start to see the hustle of the fish markets at Tsukuji OR sumo morning training session. (TBC)
The International Forum is an icon of Tokyo architecture and its sweeping form is a wonder to photograph. Perhaps a walk on to the nearby Imperial Palace, or elsewhere, depending on group interest.
Time to leave the big smoke and get some fresh air and a look at imposing Mt Fuji. There are amazing views around every bend.
Up early to photograph Mt Fuji over the lake. Then, plenty of time to explore or relax. The choice is yours.
Tuesday 3rd TRAVEL TO KYOTO
Kyoto is the cultural heart of Japan. Tradition is revered here in ways that have been lost in other cities. The town is filled to the gills with temples and shrines; and kimono clad people still stroll the atmospheric streets.
The streets around old Higashiyama and Kiyomizu Temple fill up quickly during the day, but are perfect for an early morning wander.
Gion and Pontocho are lovely to explore in the late afternoon and it's not uncommon to see geisha darting between the many teahouses. But there'll be no paparazzi style geisha hunting for us. We'll spend some time with a maiko (trainee geisha) face to face where you can ask all the questions you want to.
Thursday 5th KYOTO COUNTRYSIDE
The red gates of Fushimi Inari Shrine are a sight to behold.  Packed tightly together, they form a tunnel that eventually rambles up the hill behind the shrine.
Hata, a small village nestled in the mountains in the north of Kyoto are a peaceful escape.  It is known for its rice terraces, which step up the mountain side. We'll visit a local farmer there. (TBC – we may visit another village in the area)
With so many things to see and do in Kyoto, you'll have some free time today to catch up on anything that you've missed.
Perhaps an afternoon stroll along the Philosopher's Path. It is lined with cherry trees and there are plenty of quiet temples off to the side to pop into along the way.
Saturday 7th TRAVEL TO NAGANO (NOZAWA ONSEN)
It's time to slow the pace down and enjoy the natural side of Japan. Surrounded by mountains, the temperatures are cooler in Nagano and the people friendly. I should know – this is the area where I lived for over 5 years.
Beautiful mountain vistas surround us in the small country villages of Nozawa-Onsen and Iiyama. Ancient trees, fresh air, good food, and country hospitality – that's what it's all about.
Sunday 8th NAGANO (NOZAWA ONSEN)
Time for some monkey business. The Japanese have been using restorative hot baths for centuries.   The monkeys caught on quickly and when the humans moved out of a bath in Jigokudani, they moved in.
Luckily, there are plenty of human only hot baths available too right by our accomodation.  Feel free to try one, or all of them.  As evening falls you'll see locals and visitors alike robed up dashing from bath house to bathhouse.
Monday 9th TRAVEL TO TOKYO
Back to where it all began. We'll have a final dinner together before saying "sayonara".
Departure day. Time to pack everything up and if you've still got time and room in your suitcase perhaps a spot of souvenir shopping.
*Please note that this itinerary is a guide and activities may occur on different days due to weather and other constraints. A more detailed itinerary will be provided on booking.
Included are all of your accommodation and transport throughout the trip.
A 14 day JR pass is also included, so if you want to stay on a little longer, your transport is already covered – BONUS!  Kym will meet you at the airport on the first day of the tour.  If you plan to arrive earlier, your JR pass will be sent to you with very detailed instructions on how to get to the hotel.
All entrance fees and activities listed in the itinerary are covered.
Breakfast and dinner are included. We've left lunch to you so you can let your tastebuds explore all the culinary offerings
All that's left are:
Your flights to/from Tokyo (to Narita is easiest, but Haneda is also okay).
Travel insurance
Lunches, snacks, beverages, personal items and any souvenirs you wish to buy.
Travel insurance is a must. Not that I envisage anything going wrong and nor should you, but life is unpredictable.
A camera that has manual control.   This trip is about pushing you as a photographer, so time to get past those auto settings! An SLR is great, but micro 4/3 systems and advanced compacts offer so much control these days that they are perfect for travel too. A small but sturdy tripod would also be useful.
A reasonable level of fitness. There won't be any mountain climbing or extreme anything, but there will be a lot of walking around. Bring your comfy shoes.
Still have questions?  Ask here or give Kym a call on 0417 270 478.