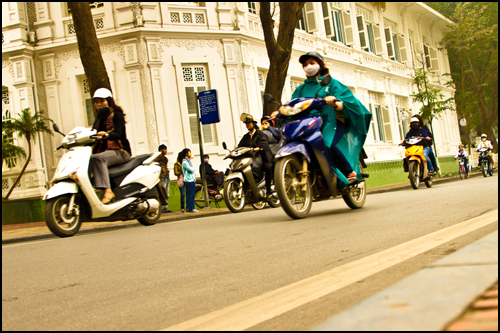 Hanoi airport gave a quick introduction to Vietnam's laidback approach to life…and bureaucracy.  With visa pre-approval arranged during the planning stages of this trip, I had thought, well hoped, that the airport process would be quick. The visa office was packed full of visa officials – two were napping, one playing with his new mobile phone, while another wandered in and out occasionally to chat.  Only one out of them all was actually working.  He was probably the new guy.  Eventually the group of frustrated foreigners that had been stirring helplessly for over an hour slowly began to dwindle and I was granted permission to enter Vietnam.
After settling into the hotel and taking a much needed nap, we gave Ethnic Travel a call to arrange our boat trip up to Bai Tu Long Bay.  An agent was sent to the hotel to lead us through Hanoi's maze of streets back to their office to finalise arrangements.  Brendan and I followed hot on her high-heeled shoes as she darted up side-streets, dodged speeding scooters, and stepped confidently into the path of oncoming traffic.  We arrived unscathed, though I wandered if we would survive the return journey without a local by our side.
By the time our plans had been sorted and dinner eaten, the initially disconcerting roars and beeps of Hanoi's traffic had seemed to settle into some sort of comprehensible rhythm, though the beats we by no means slow.